Ask an Expert

Toll Free
1-888-576-9668
Solutions
Advantech WISE-PaaS/IIoT aims to ally with partners to co-develop vertical solutions and to develop more solution ready platforms to cultivate Industrial IoT and Industry 4.0 business opportunities.
Factory Automation
Manufacturing factories are getting smarter and smarter. The transformation of productivity technology is evolving from solving visible problems to creating value by using smarter information and utilizing new methods & techniques to solve hitherto undiscovered problems. Thus, Factory Automation solutions should aim at satisfying the demanding requirements of industrial applications.
Case Study

08/02/2017

IBCON's factory equipment monitoring system equipped with Advantech's WebAccess/SCADA software platform has been adopted by a well-known automobile manufacturer and a leading tire manufacturer. And IBCON has also become a VIP member of Advantech's WISE-PaaS Alliance in order to collaboratively promote the development of Industry 4.0 in Thailand.

Case Study

06/07/2017

Advantech provided the panel maker a remote monitoring solution that comprised its multi-functional WISE-4050 modules and WebAccess/SCADA software for accurately collecting data and generating relevant charts and reports for implement production line monitoring quickly and conveniently.
Advantech's Facility Monitoring and Control System constructs an internal network in the plant based on Client/Server structure with monitoring host, data acquisition controllers and software suites provided by Advantech, which realizes operational simplicity, information security and high scalability. The software installed in the host provides default screen images to facilitate system integrators to map out their applications; while programming software installed in the controllers provides logistic and arithmetic calculations to fulfill control demands. To meet the requirements of the high-tech plants for 24/7 operation, a redundant architecture is also provided which will shift the job to a backup system if the main system suffers a power outage or communication interruption.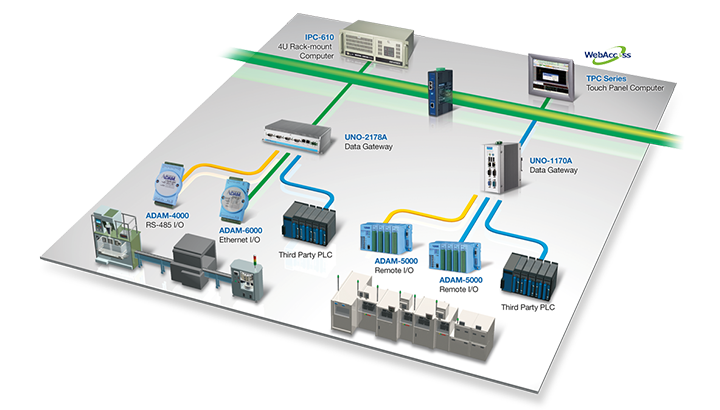 WebAccess Software Features
Provides easy-to-use and easy-to-understand graphic interfaces, e.g., all-area alarm overview feature to reduce the workload for workers on duty and all-area equipment overview to allow operators to understand resource usage status in the plant.
The database up-moving function integrates sub-system and central center database with simple clicks and reduces time for data comparisons and thus improves efficiency, which is ideal for time-pressing hi-tech factories.
With wireless LAN the system can realize mobile management and remote maintenance.
Power & Energy
Renewable energy solutions are receiving a lot of attention lately as concerns over our reliance on fossil fuels and climate change increase. It refers to using energy generated from natural resources such as sunlight, wind, rain, tides, and geothermal heat. As many industrial companies seek to reduce our footprint on the environment, more efficient power and energy is becoming a critical issue.
Advantech provides total solutions for a solar power monitoring system, which are mainly composed of Advantech's products of WebAccess software, data acquisition modules, communication modules and industrial servers. Advantech's solutions enable data acquisition from PV subsystems and data analyses, remote operation and maintenance of solar power stations, and effective management over the equipment and assets of the power stations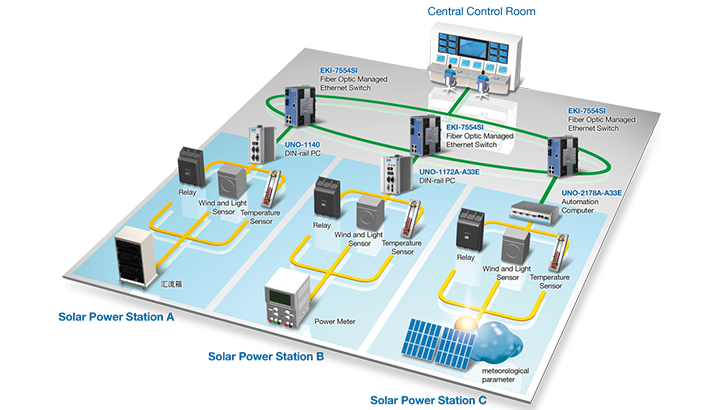 WebAccess Software Features
Compliant with China's national technical guidelines on data interfaces of online inspection system for photovoltaic power stations
Compliant with China's national technical guidelines on data interfaces of monitoring system for building-mounted renewable energy generators
Enables remote maintenance and collaborative development by users at different sites
Open application platform with extremely good scalability
Seamless integration and connection with other systems
Supports dynamic IP communication solutions
Supports DDNS functions that automatically mirror and update changing IP addresses to enable real time data acquisition and transmission in a dynamic IP communication network
Seamlessly integrated with GIS and video systems
Outstanding and vivid industrial interface performance
Enables end-users to browse engineering images via mobile phones or tablets without needing to install plug-ins
Water Treatment
In modern society, water supply plants play an important role in providing daily and clean water to citizens. Essentially, a water supply system can be divided into three sections: purification, transmission and consumption. The traditional operation of a water supply plant consumed a lot of manpower and resources, because the water treatment process needs an extremely accurate dosing control and the outside apparatuses have to be constantly monitored. Therefore, a total solution with advanced technology and robust equipment to control the treatment process and remotely monitor the situations of devices has become an essential measure of water plant management
Video

08/28/2017

As we enter the era of the IoT, water treatment equipment will require not only automatic monitoring and control capabilities, also cloud functionality to facilitate system development. Advantech offers intelligent water treatment solutions integrated with WebAccess software and diversified hardware as an automatic monitoring and control system.

Video

04/27/2017

Advantech's WISE-PaaS/IIoT is a market-oriented cooperation model using WebAccess, the IoT software framework as its core, to link solutions, partners' strengths and strategic co-marketing to get into focused vertical markets. It aims to offer complete IoT solutions for a wide array of markets, also achieving win-win partnerships.
Advantech provides PAC controllers to enable automatic execution of sewage treatment processes, as well as data acquisition and transmission equipment to forward data acquired form sensors and controllers to the control center. The HMI/SCADA software installed in the host at the control center, with a B/S (Browser/Server) networking structure, not only can implement centralized data treatment and applications but also allow client users at remote sites to browse and operate the system—for example, to start or stop the operation of pumps, which will help to greatly increase the efficiency of sewage treatment.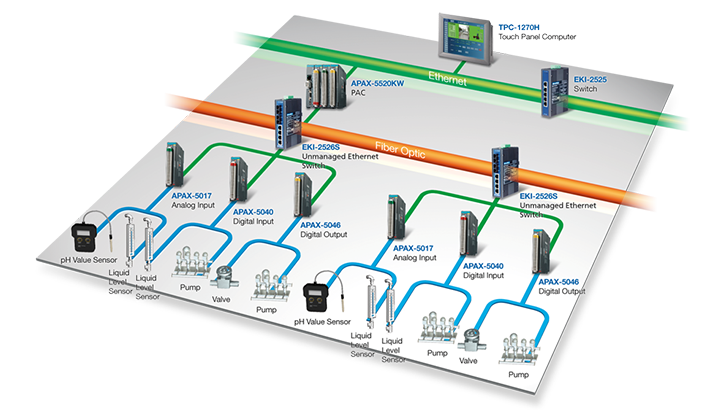 WebAccess Software Features
First configuration software in the market to adopt B/S networking technology which allows users to implement remote monitoring and control with a standard IE browser; powerful capabilities of remote diagnoses and remote maintenance are very useful for large systems like water resource distribution center.
Application platform with an open structure to provide excellent scalability for constructing large systems quickly.
Integrating 3D, Flash and WebGIS to provide easy-to-read and vividly presented data.
DDNS functions to solve communication problems in a dynamic IP network.
Support functions of alerts and alarms, video monitoring, and remote monitoring and control via mobile phones.
Intelligent Building
Due to the multiple management functions and wide range of expertise, modern Building Management System(BMS) is quite complex. Successful building management not only needs to link to a multitude of devices but also take account of the suitability of the software for the intended application.
Case Study

04/27/2017

From the opening of the exhibition hall, the smart building management system developed by Leegood in cooperation with Advantech's WebAccess has been in use. The excellent benefits provided by the system have also enabled the exhibition hall to successfully achieve a "Diamond" rating – the highest level of Taiwan's Intelligent Building Label.

Video

04/27/2017

Advantech's WISE-PaaS/IIoT is a market-oriented cooperation model using WebAccess, the IoT software framework as its core, to link solutions, partners' strengths and strategic co-marketing to get into focused vertical markets. It aims to offer complete IoT solutions for a wide array of markets, also achieving win-win partnerships.
Advantech Building Energy Management System (BEMS) provides various energy monitoring solutions to cope with different building energy management requirements. Among these solutions, cross-area energy monitoring software, energy data gateways and power meters are used to help improve overall energy use efficiency, which function in the following ways:
The corporate group or business chain installs energy data gateway(s) in each of their buildings to form separate energy data acquisition centers which forward acquired data via corporate or public network to the WA+BEMS system at the corporation's central energy data management center where administrators obtain energy consumption information quickly via simple and intuitive operations.
The energy data gateways transfer communication protocols and forward data acquired from measuring devices to the upper layer databases at the energy management center over TCP/IP. The data gateways will replicate and save data on a CompactFlash card and will automatically recover data after a network break to ensure continuous and highly-available data stream processing.
Each data gateway in a building data acquisition center can connect up to 64 water, power or gas meters.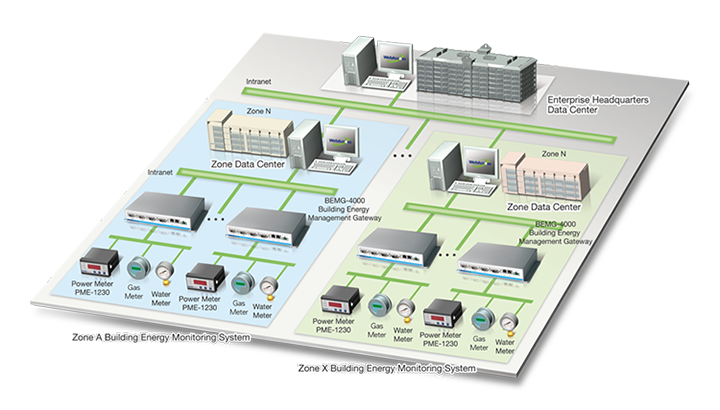 WebAccess/BEMS Software Features
Entirely web-based browser incorporating WebGIS to help proprietors easily pin the location of their building(s) and implement remote management over the energy use of their building or building groups cross a vast area.
Feature-rich reports and diagrams with default and customized formats to allow users to present energy consumption data of concern—such as energy costs and other analyzed results—in dynamic and straightforward ways of text, diagrams, graphic dashboards and images
With an overview of features to present energy consumption data of each and all of the buildings to allow users to understand real time energy consumption status; indicators and trend analyses are provided as references.
Presentation of monitored building energy consumption data by area and by item, such as power, water, gas, cooling energy and thermal energy; both real time information and historical trends are provided.
Oil & Gas
The oil and gas industry is still at the heart of the world's energy supply. From exploration and development, drilling and production, to fuel transportation and processing, creating reliable, efficient and accurate monitoring and control systems is important for every stage of the oil and gas industry.
Advantech oil and gas IoT solutions enable data acquisition via sensory layer and digital communication via transmission layer, and use WebAccess to connect the application layer. In that way they help oil and gas companies to construct a comprehensive IoT system which is able to cover each link of their operations, from production, transportation, storage to sales.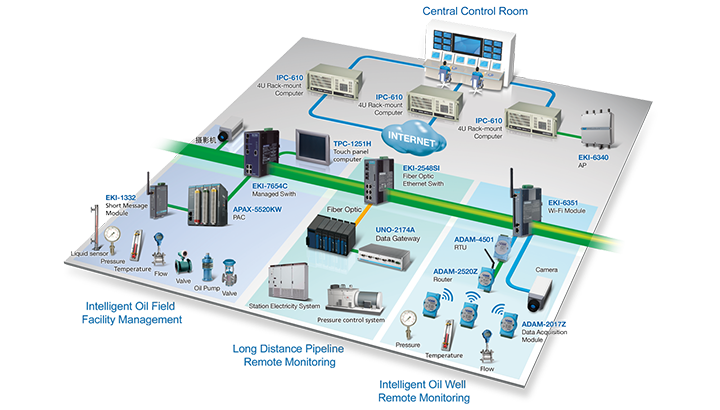 WebAccess Software Features
Real time acquisition and process of data in the monitoring system to create graphs and databases.
Brower-based applications to allow authorized users to log in the system to conduct remote operations, anywhere and anytime.
Capable of transferring different communication protocols, suited to serve data gateways and be applied in a large-scale pipeline monitoring system that often needs communication protocol transfers.
First configuration software to adopt B/S networking technology to create open application platform with ultra high degree of scalability.
Optional SCADA nodes to provide various multiple solutions for constructing large systems.